Škofja Loka is a beautiful medieval city spotted directly at the crossing of Poljanska and Selška valley. These two valleys, surrounded by countless hills, are in the best region for cycling in Slovenia. The whole region is full of cycling trails leading to secluded villages, beautiful panorama views, and kind-hearted people. Below you can read, which are the best cycling trails of Škofja Loka.
Twin rivers Poljanska and Selška Sora which meet directly in Škofja Loka.
Best long-distance cycling trails of Škofja Loka
Yes, you heard it right, from Škofja Loka you can take multi-day routes. And not only one but you have more options, and all of them are unique in their own way.
Škofja Loka Cycle Route
Best season for cycling is from early spring to late autumn.
The Škofja Loka hills and Sorica fields offer excellent varied terrain for cycling enthusiasts. Well-arranged and marked cycling trails form together the 390km long Škofja Loka Cycle Route. The entire route is divided into 13 stages. Some of the stages are shorter and easier, while others are more suitable for experienced and well-prepared cyclists. All the routes lead past various cultural monuments, restaurants, inns, snack bars, tourist farms, and mountain huts.
Circular Cycle Route Gorenja Vas – Poljane
Trail winds through secluded villages and green fields.
This route takes you around the Poljanska valley, which is one of the nicest valleys in the Carniola region. If you take this route you will be fascinated. Forests, panorama views, grass fields, historic monuments like Rupnik defensive line, rivers that you can swim in, and water that you can drink. Here is everything like it should be.
The entire 115km route is divided into three stages, with a total altitude difference of 3,400 meters. Each of the stages can also be completed as an independent route.
Best one-day cycling trails of Škofja Loka
First of all, whatever route you decide to ride, you will be amazed by the surrounding nature. But on the following list, you can find trails that stand out a bit.
Škofja Loka to Blegoš trail
360-degree panorama view from the top of the mountain Blegoš.
Our first choice is the most famous mountain in the region, mountain Blegoš. Because of its easy access and amazing view from the top, it is the perfect ride for those who love mountain biking (MTB).  The first part consists of an easy ride down the old military road through lovely villages all the way up to the highest point, the hut under Blegoš.
To reach the top of the mountain you can walk from the hut to the top (approx. 20min) and enjoy the marvelous view of the hills of Škofja Loka, the Julian, and the Kamnik-Savinja Alps, and the Karavanke. If the weather is good, you might even catch a glimpse of the Adriatic Sea.
The trail is 40km long with a total of 1500m altitude difference.
Circular Cycle Route Žiri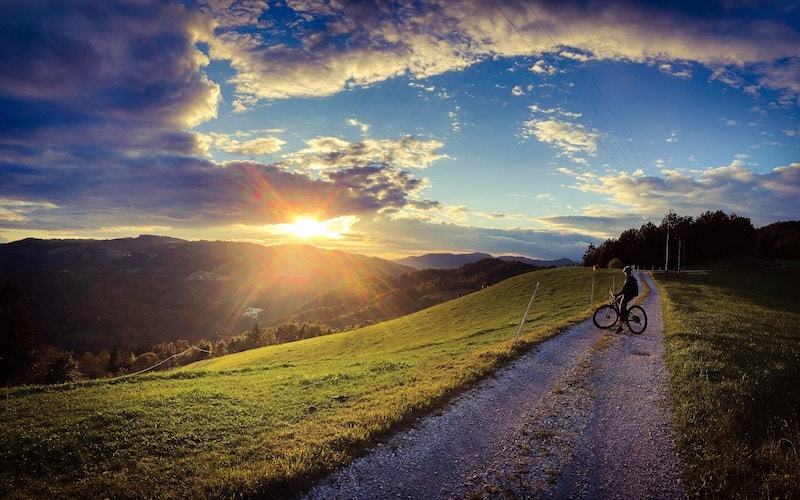 Exploring trails around Žiri will leave you speechless.
Our second choice is the wide valley surrounded by a ring of hills which offer an abundance of opportunities for recreation. The numerous forest paths in the surrounding hills and valleys have become targets for many cyclists. Together they form circular cycle route Žiri.
The circular cycle route Žiri runs mostly along forest macadam trails and is suitable for mountain bikes. The length of the entire trail is 54km. There is no need to worry about getting lost as the entire route is well marked with orientation posts.
This trail could be one of the best surprises you can get, because of its views. Even among local cyclists, this trail has a reputation of being one of the most beautiful rides.
Škofja Loka to Gorenja Vas trail
Spectacular view from Sveti Ožbolt.
Starting from the medieval town of Škofja Loka, the path leads you through the valley of Hrastnica to Sveti Ožbolt, where you receive a spectacular view. From there on the most beautiful part of the cycling trail begins. Trail winds through mountain villages with views of Polhov Gradec and Škofja Loka hills, all the way to the Julian Alps.
Especially unique is the last part of the route along Žirovski vrh, where the Rupnik defensive line is located. The system of bunkers and fortifications brings special stories written by history.
A very pleasant part of the route is when you ride along the river Poljanska Sora through the Visoko mansion. All these, are the reasons why this route is chosen as one of the best cycling trails of Škofja Loka.
This 60km trail is not marked, so the best way to experience it is to book a tour with our local bike guide.
What type of bike is best for cycling in the Škofja Loka region?
In the region of Škofja Loka, you can find all kinds of roads and trails. From asphalt and macadam roads to single trails. This means that any kind of bike (road bike, trekking bike, gravel bike, or MTB) can be a good choice. But because of its hilly landscape, we recommend using MTB or gravel bike, as these two bikes will let you see and ride the most.
Electric mountain bikes are a great tool to discover the cycling trails of Škofja Loka.
Are you skeptical about your physical condition? Don't worry, the best way to discover the cycling trails of Škofja Loka is with an electric mountain bike (e-MTB). You can easily rent an e-bike in Škofja Loka and that way even gets extra tips from local experts.
Why you should choose Škofja Loka as your next cycling destination?
There are so many good cycling regions in Europe and even in other parts of Slovenia, so why Škofja Loka?
Škofja Loka hills with endless possibilities for cycling.
Here is the list of things you should consider:
Bike trails – there are so many of them and there are options suitable for everyone.
Nature – it is beautiful and those breath-taking views.
Local culinary – Restaurants, tourist Farms, or local shops, you can still get food that's made in the traditional way with ecological ingredients.
Kind-hearted people – whenever you will need help or just a quick tip they will be more than happy to help you.
Uncrowded – so many places surrounded only by nature.
No traffic – you will need to be lucky to meet some cars during your ride.
Accommodation – many nice, family-run hotels and bed&breakfasts.
Do you want to experience the cycling trails of Škofja Loka in the best possible way? Contact us and we will prepare you a custom itinerary.