Best places to eat Slovenian food
If you are looking for the best places to eat Slovenian food, then you are in the right place. Eating like a local in Slovenia is not that hard, however, there are places that offer truly the best Slovenian food. If you are in search of such places, then keep on scrolling down as we have prepared a list of 5 best places to eat Slovenia food.
NOTE: if you wish to visit the best places to eat Slovenian food and eat the best Slovenian food there, you will most likely need to pre-order the best local food or you can travel stress-free and join our bike tours where we arrange the best local food and give you the best experience of Slovenia.
1. Šija hut and Mountain home on Kofce (Tržič)
The Šija scouts hut
The Šija scouts hut is located in the Košuta mountain, or more accurately at a mountain pasture below Košuta. It functions as a starting point for approaches to the surrounding peaks (Veliki vrh, Kofce mountain, Malo Kladivo, Kladivo, or crossing Košuta to Košutnikov Tower) or a delightful stopping point to have a rest and eat some food while exploring the mountain pastures around it. The ones that do persist to visit it, return home with satisfied stomachs and smiling faces. They serve local dishes, from one-pot meals (jota, goulash), farm dishes (sausage, sauerkraut, buckwheat porridge, various kinds of dumplings), desserts (strudels, štrukelj, buckwheat omelet with berries, nuts…etc), seasonal dishes (sour milk), all the way to skillet-cooked dishes for a group of people (but normally has to be ordered in advance).
The mountain home on Kofce
The mountain home of Kofce is located on the scenic plateau of mountain Kofce (1488m), which lies on the southern slopes of the western part of Košuta. It is really lively on the mountain in the summer, as the surrounding farmers bring the grazing animals on the mountain for summer pasture. At mountain home on Kofce you can fill your stomachs with homemade Slovenian stews, such as jota, ričet, pasulj, veal or chicken stew, mushroom soup with buckwheat porridge, Tržiška bržola and other dishes on a spoon. However, they are best known for its dessert called "Štruklji". They make various kinds, from sweet to sour. You can treat yourself to a Kofce tris made of blueberry, cheese, and chocolate dumplings, or try something bolder, such as a chocolate dumpling with banana or dark chocolate and raspberry dumplings.
However, there are only two ways to get to Šija hut or the mountain home on Kofce, by bike, or a hike. There is an option to visit these two places with our bike tour Tržič, where (with our connections), we pre-organize truly the best Slovenian food.
Famous Slovenian Štruklji
Bike tour Tržič – happy faces below Šija scout hut
2. Gostilna Pri Boštjanu (Škofja Loka)
The nobility of the old and the good still resides in this restaurant. It is the venue for one of the richer and more imaginative offerings of vegetarian food in the wider area, as well as a wide selection of dishes from the wood-burning stove. In this area, the restaurant's offer is the strongest, as evidenced by awards such as the BRONZE SPOON of the Delo Culinary Academy.
The specialties of the kitchen are the excellent soups – beef soup with homemade noodles or meat "žlikrofi", mushroom, garlic, and excellent pumpkin or chanterelle soup. The menu often has different dishes with fresh mushrooms, homemade "žlikrofi" filled with meat, cheese, or dried fruit, and of course, the excellent Štruklji filled with cheese, walnuts or chives. There are also varieties of old home-cooked dishes, and of course, the great blueberry wrap.
There are three ways to access Gostilna Pri Boštjanu – by car, bike, or a hike. It takes approximately 10min with a car and 1h walking from Škofja Loka town center, but with a bike, you can do a lovely tour through Škofja Loka town with a lovely lunch stop at Gostilna Pri Boštjanu. For more info have a look at our bike tour Škofja Loka.
Beef soup with corn dumplings
Bike tour Škofja Loka – riding through the magic autumn forest
Home-made bread and smoked sausage
3. Tonkina koča na Vršiču (1380m)
The Tonka cottage at Vršič is situated on an extremely beautiful viewpoint and it is a nice starting point for a hike to the nearby peaks or just a short walk around the magical surroundings of the cottage to the Vršič pass, which is only half an hour's easy walk. Also, right by the Tonka cottage runs an Alpe-Adria trail.
At Tonka cottage they offer local food, workshops for kids, herbs workshops, sunsets and an evening beneath the stars, and walks through the hidden paths.
Vršič is also the highest and most famous mountain pass in Slovenia, as well as, the highest in the Eastern Julian Alps. It is a must-do cycling climb in Slovenia. On the other side you descent to the valley of Trenta where you can enjoy the beautiful colors of Emerald river.
Tonkina Koča na Vršiču (1380m)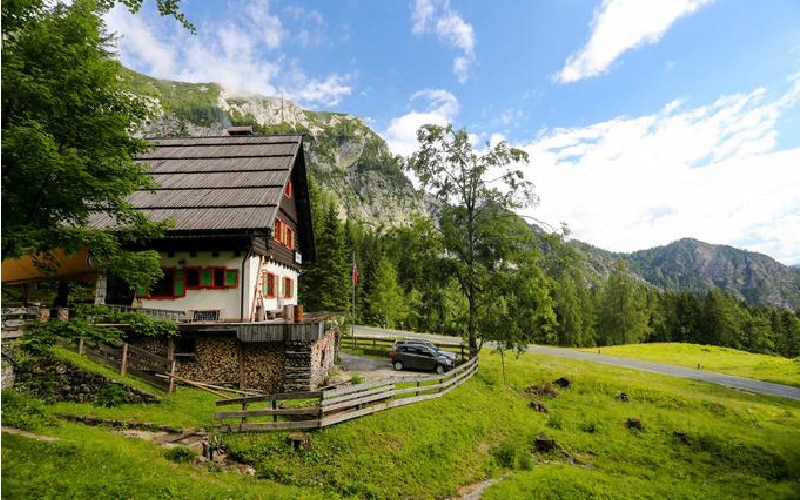 Breath taking view from the Tonka cottage
Herb garden at Tonka cottage 
4. Biodynamic farm Pri Kamnarjevih (Karst region)
In 2004 the Kamnar family took over an abandoned farm and revived it. They are currently cultivating about 4.5 hectares of land, of which vineyards cover 1.5 hectares, arable land covers 1.5 hectares, and the pastures cover the rest.
Since 2011, they offer wine tasting in their refurbished rooms at their homestead. Additional to their wine, they also offer a cold snack from their produce. Their main product is red wine Kraški Teran from biodynamically produced grapes.
Their menu offer is based on the concept of original Karst cuisine, considering the season and the produce. A touch of modernity gives its cuisine a blend of Mediterranean and wider cultural influences, as well as the principles of healthy and mindful eating. They also offer a rich vegetarian and vegan menu.
Beautiful vineyards at Pri Kamnarjevih
5. Mu bar
Mu bar is an open-air restaurant, which is located on Pokljuka right by the Sport hotel Pokljuka. The place is mostly known only to the locals. It serves grill food and traditional Slovenian food, from sour milk to different stews. They operate only in Summer. The Mu bar is also a starting and finishing point of our Bike tour Bled: The hidden shepherd's path of Pokljuka.
Green fields and beautiful cottages at Pokljuka
Slovenian sauerkraut and bean stew Jota
Lovely Bike tour Bled – The hidden shepherds path of Pokljuka