Slovenian Alps ebike tour
Panorama trails, traditional villages and beautiful mountains.
Do you have a long list of places you wish to see in Slovenia, but don't know how to organise your holidays?
We have a solution!
Experience the Slovenian Alps ebike tour, a captivating 4-day cycling expedition guiding you through the stunning Kamnik-Savinja and Julian Alps. Immerse yourself in the panoramic grandeur of towering peaks while pedalling along the slopes. Within these alpine landscapes are hidden glacial lakes, lending a spectacular backdrop to your biking adventure. These natural wonders are interconnected by the vibrant history of Ljubljana and the charming town of Škofja Loka.
Indulge in a culinary journey that mirrors the diverse Slovene landscape, bringing a flavorful conclusion to the Slovenian Alps ebike tour narrative.
Tour info
Max. group size: 12 people

Professional English and German-speaking local bike guides.

We use Electric Mountain bikes (eMTB)

Accommodations:

Local tourist farms and family-owned hotels (*** and **** stars).

Best season: May to end of October
Is the tour right for me?
Tarmac road (60%) Gravel road (40%)
Highlights
Visiting shepherd cottages on mountain pastures with a view of the Julijan Alps.

Visiting Bled and Lake Bled.

The medieval town of Škofja Loka (the second oldest town in Slovenia) with its exciting history.

Strolling through Ljubljana, exploring the nicest corners of the town, seeing them through the eyes of the locals.

Culinary experiences in different Slovenian provinces.
Experience of a lifetime
Even the most experienced traveller will find an e-bike tour through Slovenia with Greenhills Slovenia to be a revelation. Riding with Jernej is pure pleasure. He combines a welcoming spirit and enthusiasm for the e-biking experience with deep knowledge of the unique Slovenian network of back roads, old military roads, logging roads, farming roads and even smaller roads through the mountains and hills, all enjoyed on his state-of-the-art e-bikes.  Jernej curates each day's ride for maximum interest and enjoyment depending on the season, the weather and the group. With deep forests, wonderful local food along the way, and stunning views at every turn, e-biking with Greenhills Slovenia is an experience of a lifetime.
John M, South Plymouth Court, Chicago
Slovenian Alps ebike tour is the perfect way to free your soul.
Bruno F., United Kingdom
"What a great way to see the Alps and the mountains from up close. The guide was great, very friendly and kind. We were always treated the best way possible. You'll be in the mountains and pastures, and get to see some animals. After you finish the tour you get to eat some proper local food in a local mountain wooden lodge restaurant and then he takes you to see both the Bled Lake and Bohinij Lake and have some very local treat.
P.S: He will pick you up and drop you at your place of accommodation which is great."
Jane B., United Kingdom
"I received friendly communication in advance of my trip and was looked after 100 % from beginning to end. The e-bikes are fantastic and can get you a lot further than an ordinary bike. I loved the ride through the forests – seeing lots of nature on the way. It was well worth the climb to the top of the hill from the hut – what an amazing view! I would love to return to Slovenia and definitely do another trip with this Company. Thank you for a great adventure!"
Robin M.,
"So, we're leaving Slovenija but need to return. For any of you who want to go on a great bike tour, desire stunning scenery, nice people, and excellent bikes, take a look at Greenhills – Bike Tours Slovenia. You'll be posting pictures and vowing to return. Thanks Jernij!"
Slovenian Alps ebike tour highlights in photos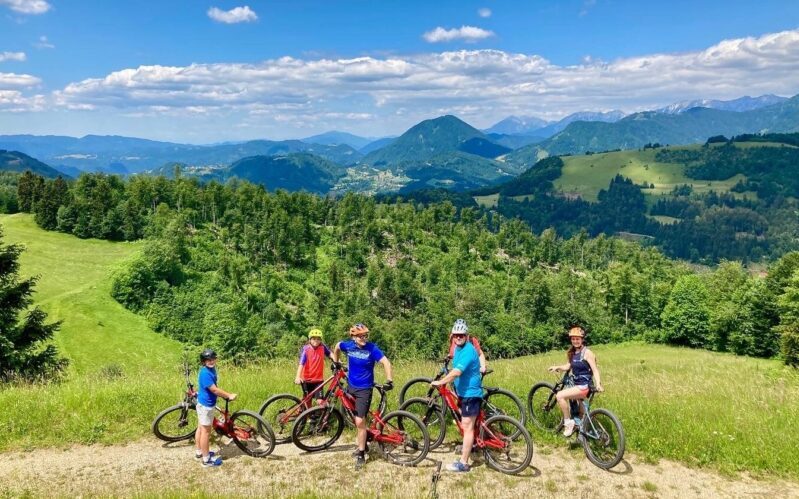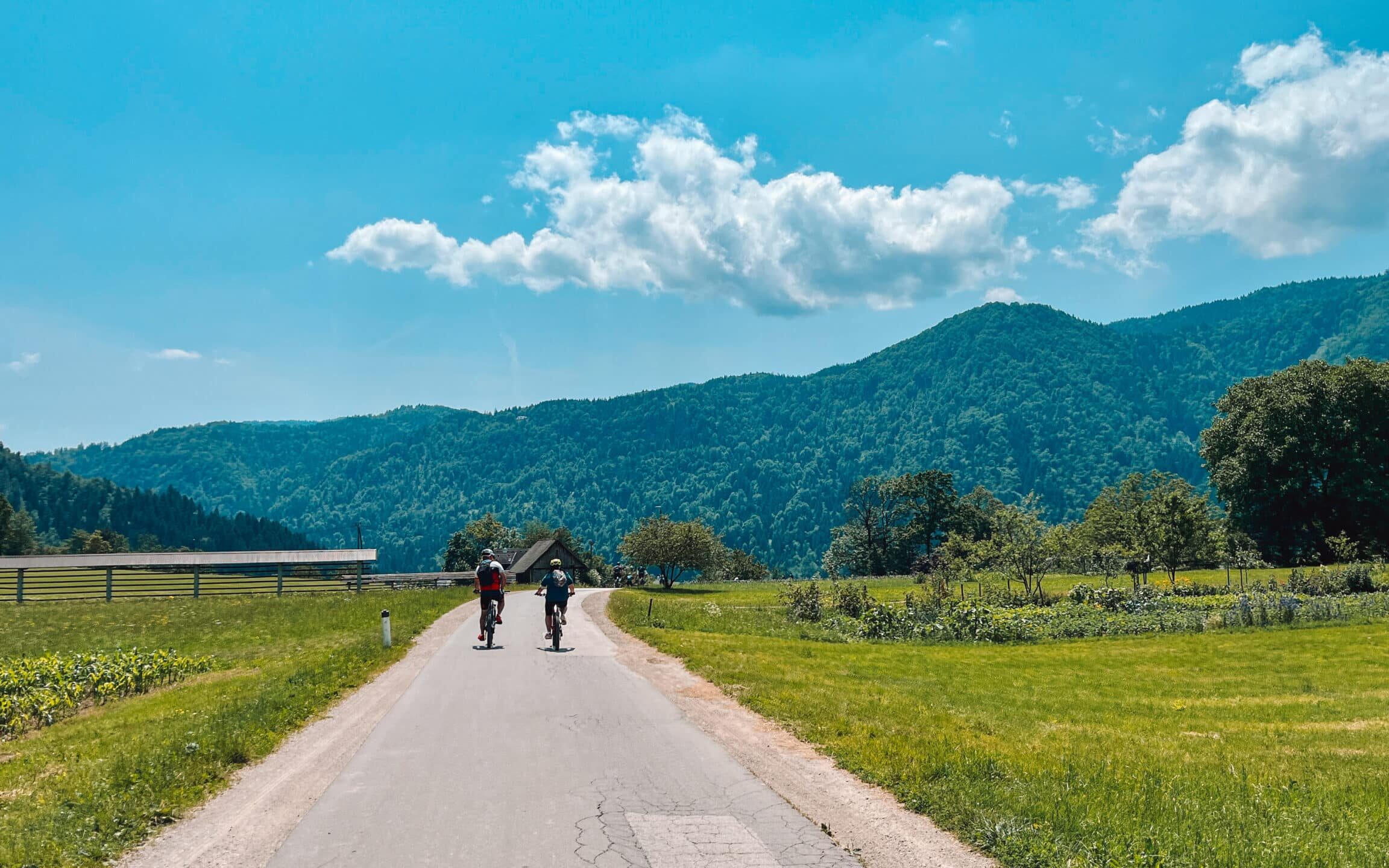 How many people will be in the group?
AdminGH
2018-04-16T20:01:01+00:00
Since we believe smaller groups mean better experiences, we usually travel in groups of five to ten people. The minimal number of people for an individual group tour is four.
We are also offering private tours. For more info please contact us info@greenhills.si.
Guest requirements:
Guests ages 18 and up can attend. Parents may also bring children. If you bring a guest that's under 18, it's your responsibility to make sure the activities they participate in are age-appropriate.
Flexible cancellation policy:
In case the guest cancels the tour order within 24 hours of purchase, full refund is issued. See cancellation policy.