What can be better for your mind and body than long warm summer days, exceptional panoramic views, and most importantly the health benefits that nature and biking has to offer. So why not experience it all by cycling through beautiful country side of Slovenia? 🙂
Here are 7 benefits of how cycling (e-bike) is healthy for your mind and body.
1. BURNING FAT
As your whole body must to work to keep you balanced on a bicycle and a different terrain, you consequently burn more calories. For example, a woman who weighs 60kg would burn around 480 calories whilst cycling from 20 to 25km/h in 60 minutes, and if she is cycling a little bit faster, from 25 to 30km/h she can burn up to 600 calories. So ladies you shouldn't even think twice when deciding to go for a bike ride.
2. JUST A "BY THE WAY" RECREATION
The best thing about cycling is that you get to exercise without even being aware of it. Especially when you are with a group of friends and family, or like-minded people who enjoy spending time in nature. As the phrase goes, "time flies when you are having fun".
3. MUSCLE TONING
Cyclists are known for having nicely toned legs, which is not uncommon, as most large muscle groups work during cycling, such as lower leg muscles, anterior and posterior thigh muscles and the glutes. In addition, the muscles for balance are also active, such as the abdominal muscles, muscles in the lower back and in the arms. You have got yourself a whole-body workout right there!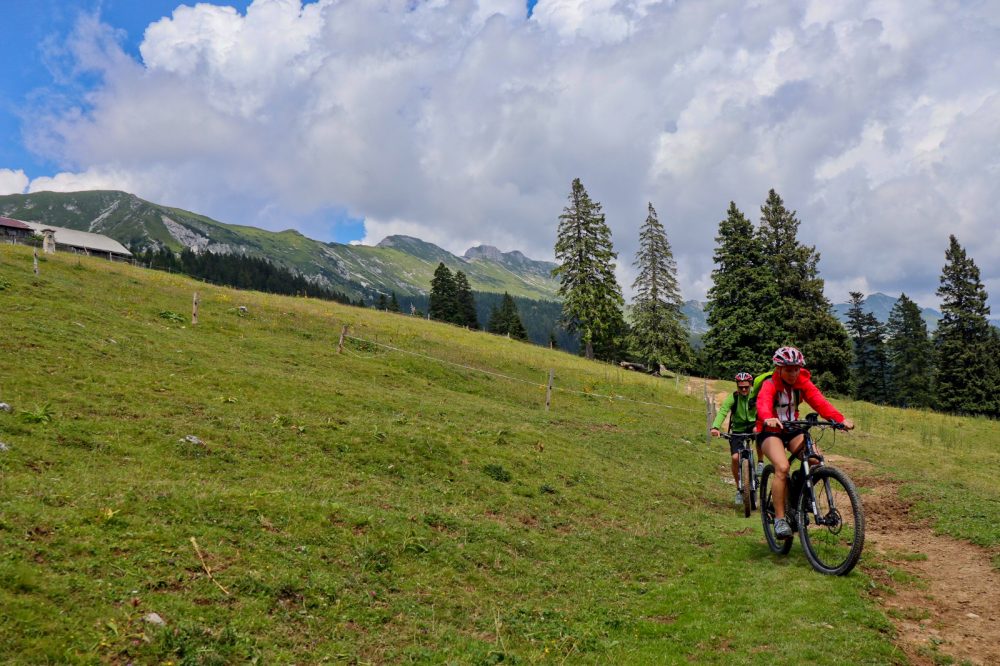 4. GIVES YOU ENERGY
Are you frequently tired and lack energy? Research shows, that cycling increases energy levels by 20% and reduces fatigue by 65%. Cycling leads to the elimination of a dopamine neurotransmitter in the brain, which gives us the feeling of energy, even when you cycle at a slower pace.
5. IT PROTECTS YOUR JOINTS
During cycling, our body is in a sitting position, so our knees, ankles and spine are under much less stress compared to running. However, it is important that you have a correctly adjusted seat (when the pedal is in the lower position, the leg on that side must be slightly bent).
6. IT PROTECTS YOUR HEART
Cardiac disorders are one of the most common causes of death in the world. The highest risk being that of high blood pressure and elevated cholesterol. One study has shown that cycling in the long run significantly reduces both, and helps increase stamina.
7. GET TO ENJOY AN ACTIVE HOLIDAYS
Who doesn't want to try some local cuisine (including the deserts) but not feel guilty about it when enjoying their holidays? By joining cycling tours whilst on a vacation, you get the full package! You get to enjoy the local cuisine, explore new places and keep active, all at the same time! What more could you ask for?
To conclude, if you are the type of person who wants to have a healthy lifestyle but can't decide where to go on their next holiday, we have a simple solution for you. No matter how experienced a cyclist you are, we offer exactly what you are looking for – from a day tour to a bike holidays. Do not hesitate to contact us with any questions that you might have.