Slovenia is one of the most underrated and at the same time the greenest country's in the world. Did you know, that its pristine wilderness offers some of Europe's most scenic hiking and cycling trails? In Slovenia, the cultural scene thrives and the food and hospitality are world-class.
When it comes to planning accommodation, Slovenia can be one of Europe's most inexpensive countries. Our selections of the best cycling Hotels in Slovenia will leave you well placed to cycle and explore the best of this fascinating country.
The best cycling hotels in Slovenia are those with direct access to nature.
Slovenia is closely connected with its natural resources and the local population strives to manage them economically and, above all, sustainably. This means that the country is committed to ecological and sustainable tourism. Visitors of Slovenia in that way can get authentic experience full of unforgettable moments in nature.
Nature in Slovenia is just a doorstep away from your Hotel. 
With the development of tourism, the offer of accommodations in Slovenia is also increasing. To make your choice easier, we present you with some of the best cycling hotels in Slovenia. We arranged them into regions that you can find them below.
Best regions to spend cycling holidays in Slovenia
Slovenia is divided into several main regions (Gorenjska, Primorska, Koroška, Štajerska, Dolenjska), which are divided into many sub-regions. We have excluded some of the most interesting sub-regions for active holidays, especially with an emphasis on cycling.
All our collections of best cycling hotels in Slovenia:
Best cycling hotels in Tolmin
Best cycling hotels in Škofja Loka
Best cycling hotels in Tržič
Best cycling hotels in Tolmin – Cycling (Mtb) haven on the south border of Triglav national park
The city of Tolmin is the largest settlement in the Upper Soča Valley. His location on the southern rim of the Julian Alps is giving him a great starting point for many cycling trips. High mountains around Tolmin means that the best way to explore local trails is by riding a mountain bike.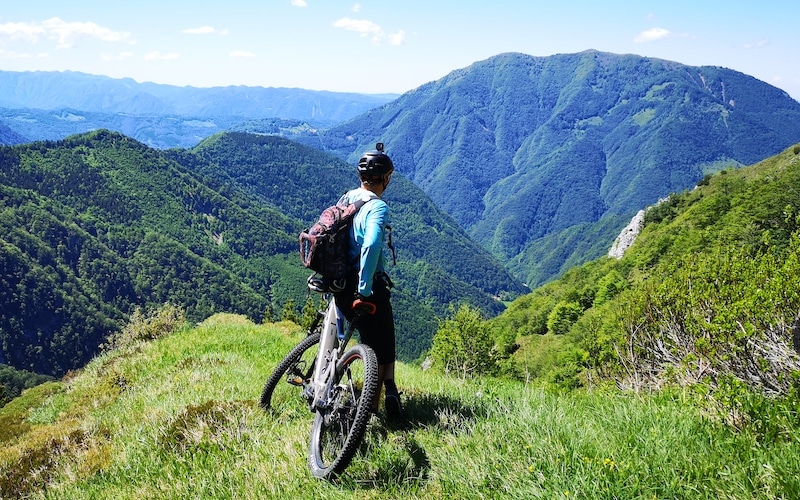 In Tolmin you can find some of the most remote and beautiful places. 
Best rides in the region:
Matajur with the longest single trail descent in the region.
Stol a beautiful and demanding panoramic route
Robidišče the most western village of Slovenia
Hotel Dvorec is easily accessible and conveniently located at the center of Tolmin in a building where the present meets the charms of the old world. With its location, only a couple of hundred meters from the confluence of the magnificent Soča and Tolminka rivers, Hotel Dvorec presents an excellent starting point for exploring the Soca Valley.
Best camping place in the whole valley. Its amazing location on the left bank of Soca river gives you direct access to the river and on the other side great starting point for cycling trips. In addition to location, its great advantage is the size and openness, which adapts to the number of guests.
Nebesa is modern shepherd chalets captured on a panoramic deck between the sky and earth.  They are almost a thousand meters above sea level and overlooking the peaks of the Julian Alps, the Triglav National Park, and the emerald Soča river in the valley beneath. Its location is great for exploring the Soca valley by bike.
Best cycling hotels in Škofja Loka – Cycling paradise for everyone
The medieval city of Škofja Loka, Poljanska valley, and Selska valley is probably one of the most underrated cycling locations in Slovenia. But surrounded hills are almost perfect for any kind of cycling. From MTB, gravel bike, trekking bike to road cycling in this region you can find scenic roads and trails that will leave you speechless.
Škofja Loka region is one of the most undiscovered locations in Slovenia. 
Best rides in the region:
Soriška Planina mountain pasture above Lake Bohinj
Žiri circular cycling route
Škofja Loka circular cycling route
This modern, rustic-style hotel is located in the center of Škofja Loka. Its location has both a great base for exploring the city and a perfect cycling getaway to the surrounding hills. A beautifully landscaped outdoor garden with a private fireplace and direct access to the Sora River ensures that you can relax after a cycling tour.
An award-winning hotel offering luxury accommodation in the foothills of the Julian Alps. Surrounded by some of the finest scenery in Europe, Pri Lenart Hotel is the perfect base for hiking and biking holidays in Slovenia. Accommodating no more than ten guests at a time, the hotel ensures that exploring Slovenia with them is a truly unique experience.
Homestead Tešnak is situated in the green heart of Slovenia Poljanska valley, surrounded by beautiful hills. It is perfect for nature lovers, hiking and cycling enthusiasts, and people who enjoy peace and silence. The accommodation offers very nice and inviting apartments and rooms with a beautiful garden where you can relax after an active day.
Apartments and rooms Tolc
Under beautiful mountain pasture and ski center Soriška Planina you can find the photogenic village Sorica and this is where Apartments Tolc are located. Sorica is a great starting point for cycling and hiking trips and will give you a great environment to relax after your day is concluded. Apartments are modern furnished and besides that, the accommodation offers a spa and private restaurant.
Best cycling hotels in Tržič – Crowdless paradise
A true paradise for cyclists, Tržič offers you a wide variety of possible routes and levels of difficulty. From easy recreational rides to those that will soon leave you panting from exertion. You can set off on trails through fairly level fields, but sooner or later the terrain in Tržič becomes increasingly vertical.
Tržič with its mountains is a hidden treasure in the Karawanks. 
Best rides in the region:
Trans Karawanks MTB trail
Dobrča – Tržič highlands
Glamping mountain fairy tail
In the oases of incredible nature, you can find beautiful wooden houses (cabins). All of them along with the surrounding park are designed and constructed according to Feng Shui principles. Cabins are located close to Tržič town. This area is convenient for visitors that want to explore natural, cultural, and historical attractions as well as enjoy various sports activities. The glamping site is an ideal base for cycling trips around Tržič.
Apartments tourist farm Štorman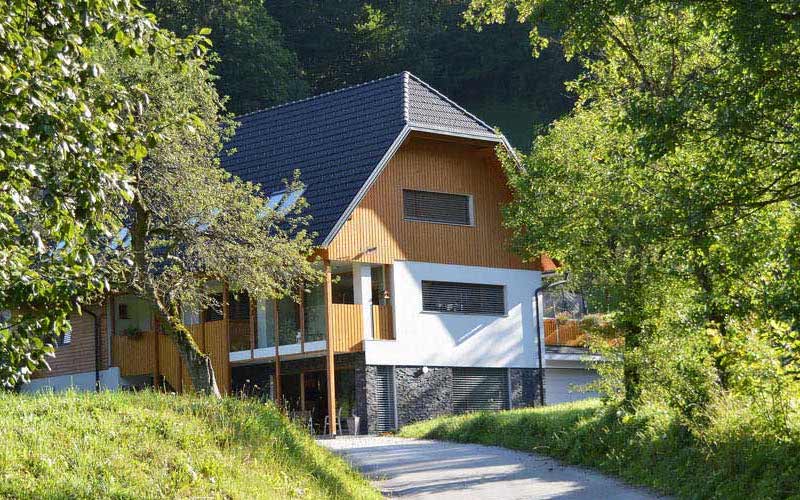 The family-run farm is situated in an idyllic location with a beautiful view of the Alps. There is plenty of space to play or relax around the farm. The surrounding nature is perfect for hiking, cycling, and sightseeing. For a cyclist, they even offer bike storage and their own rental bikes.
Hidden cycling trails waiting for you
Slovenia is one of the smallest countries, but a real treasure of natural pearls. No matter where you land in the country, you will always find a natural corner near you. And where is nature there are always cycling routes to explore!