Explore Slovenia with a local bike guide
Have you ever set out on a journey to a foreign nation hoping to have an exciting vacation, only to get lost, miss out on the sights you intended to see or struggle with a bike breakdown? Maybe you have realised along the road that self-guided tours aren't your thing and you are longing for a more carefree method to discover a foreign country.
When it comes to Slovenia, the best way to discover its hidden gems is to tour the country with a knowledgeable local bike guide. Slovenia is a gorgeous European country. You can go off on a journey full of adventure, culture, and breathtaking landscapes under the leadership of an informed local and have a worry-free experience. This individualised method of exploration promises to unveil Slovenia's essence, one pedal stroke at a time, regardless of your level of experience.
For this reason, we would like to share with you the 4 fantastic benefits of planning active holidays in Slovenia under the supervision of a knowledgeable local bike guide.
1. The unseen side of Slovenia
Imagine wanting to explore Slovenia beyond the traditional tourist traps, but being unsure of the finest routes, hidden jewels, or places to refuel and rest. This is when your best ally comes in: our local bike guide.
We frequently joke that a local bike guide is someone who knows every inch of their area; this is not entirely untrue, though. They have the key to discovering the unknown. Slovenia has some amazing secrets—places that will take your breath away, such as the fascinating fairytale Bike Tour Bled: The Shepherds' Path of Pokljuka. The Bike tour Velika Planina is a perfect example of how they're sufficiently off the beaten route to allow you to enjoy the peaceful embrace of nature. Nevertheless, close enough to allow you to jump over to a medieval town or city, as with the Bike tour Škofja Loka.
Our local guides make sure your trip is filled with wonder, exploration, and the real spirit of Slovenia while keeping things easy and hassle-free. They unlock the doors to these hidden gems.
2. Savoring local flavors
If you're visiting Slovenia for the first time and want to indulge in our local treats on your bike vacation, you're in for a treat. The only issue is where to start. Would you rather sample some house-made schnapps, tour the beer brewery, or start in the wine cellar? It's a fun puzzle that's worth thinking about.
We have some amazing news to share with you!
You may enjoy all of this and much more with the help of our experienced Greenhills local bike guide. We can provide you with a variety of experiences, such as a pleasant wine cycling tour featuring tastings of the famous Teran wine and prosciutto. Or an exploration of the charming mediaeval town of Škofja Loka in the Poljanska Valley, where you can have a variety of beers, schnapps, and homemade sausage. Just list all of your preferences, and we will design a customised bike trip so you can enjoy them all hassle-free.
3. Local insights
When travelling to new places, let's face it, we all wish we had some insider information. Well, you have come to the correct place. Our local bike guide is always happy to share those priceless insider recommendations. They are your go-to source for information on things to see, hidden restaurants, top stores, comfortable lodgings, and picturesque bike routes.
Their objective is to make sure you travel smoothly and enjoy every second of your busy vacation at a place they treasure—their own home.
4. Discover a place through its people
Is there a better way to genuinely comprehend a place than to see it through the eyes of a local? Slovenians are known for being hospitable, kind, and friendly people. They enjoy telling their stories to tourists who are keen to learn about the unique characteristics of their native country.
So, if you want to bring back wonderful experiences to share with your friends and family, remember Ibn Battuta's wise words: "Travel – it leaves you speechless, then turns you into a storyteller."
Your complete journey with a local bike guide
Based on what has been said so far, it is clear that a local bike guide, armed with the necessary expertise and experience, holds the key to creating amazing holidays in Slovenia.
Our expert local bike guides devote their time and passion to ensuring that you see Slovenia as a local would. From exploring the natural beauty of the Slovenian terrain to savouring wonderful local cuisine and receiving practical insights from locals, our guides are your trustworthy friends.
If you have any remaining concerns regarding the abilities of our local bike guides or the appeal of our tours, we encourage you to read about the experiences of our former visitors HERE. They have travelled with us and discovered the charm of Slovenia through the eyes of the people who live here.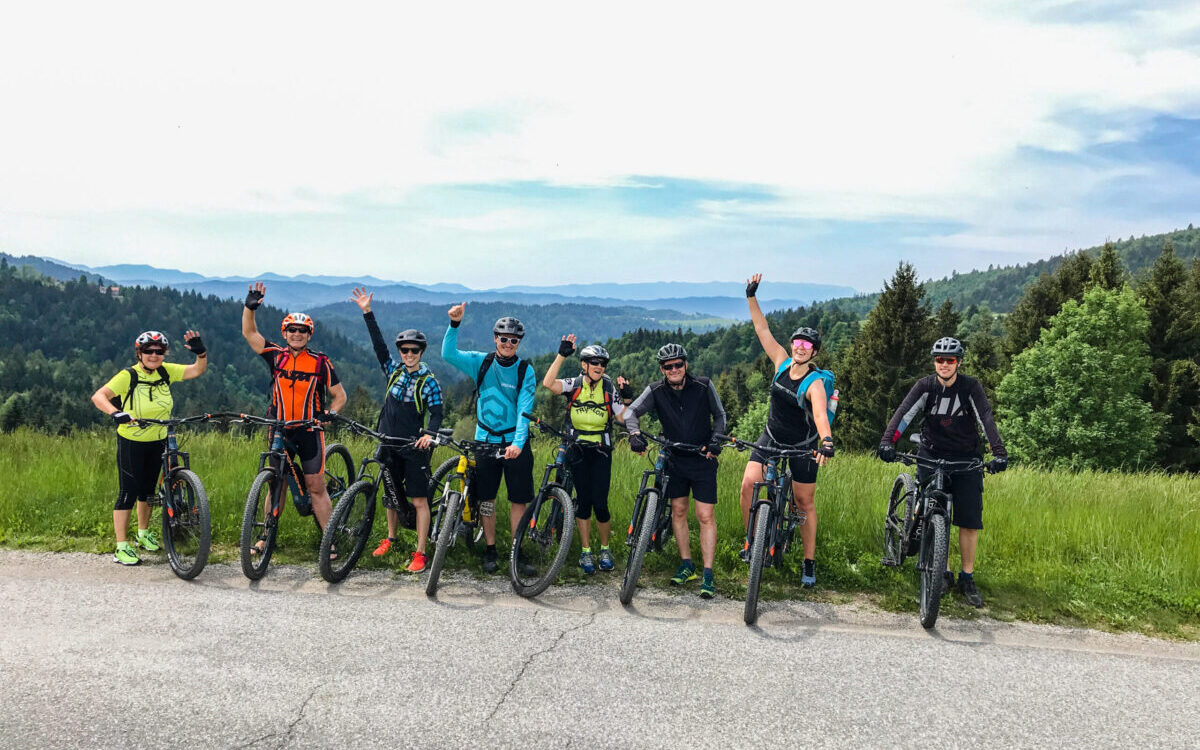 Do you want to experience ebike holidays in Slovenia, but want more information?