Don't be afraid of MTB. Firstly, what is fear? Fear is just an emotion, an energy, that we all interpret differently. Some perceive it as a restrain, while others see it as a drive of success. With that comes the opportunity to use fear in our good and not allowing it to prevent us from performing to our fullest potential.
Secondly, most people associate the MTB word with high hills or mountains, hard off-road and single trails, and extreme drops and jumps. In relation to this, they think it takes a lot of effort to reach the top, be in great physical shape, have especially good coordination and balance on a bike.
But is it really like that? Yes and no. MTB can also be something else. It can be suitable for everyone! That is why we give you the following facts about MTB.
Mountain biking (MTB) equipment
At first the mountain bike looks very robust, which makes most people think "this bike is totally not for me". They think a trekking bike with thinner tires is more appropriate for them, and how it must be more fun riding with it on the road.
Facts:
Wider tires mean better stability, greater grip and mostly less vibrations, which consequently lead to a more relaxed ride along macadam and forest paths.
Disk brakes mean more control over speed, but above all they need less energy and power when braking.
Bicycle technology has advanced remarkably in the past few years. The focus has been to transfer as much energy into speed as possible, enabling each circuit to be fully optimised.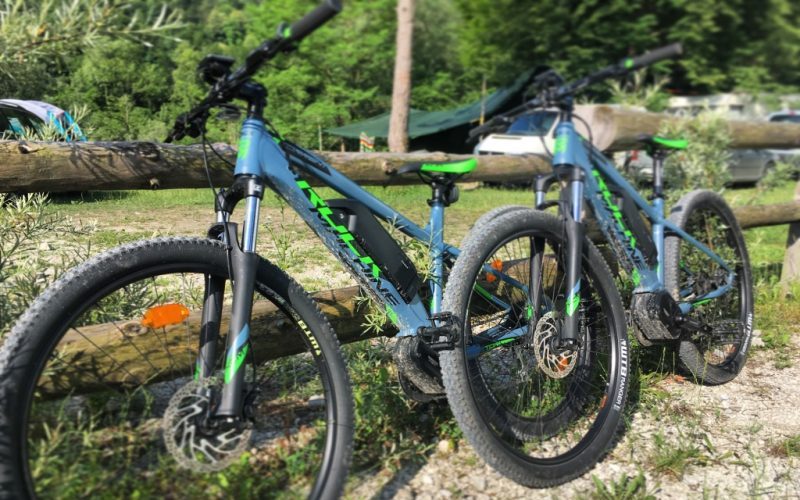 The paths
Many recreational cyclists think that all the MTB paths look like those extreme downhill trails, with drops, jumps, and tree roots. However, there are various MTB paths that you can take, depending on your wishes and fitness level. Options are endless and can be planned to fit everyone!
Facts:
The macadam and forest paths have less traffic, which makes them safer compared to the road cycling.
They also bring you closer to the nature, and fill your lungs with fresh air.
The road difficulty can be adjusted with the right choice and planning of the path.
The views from the top of a hill or mountain are priceless.
If you are still skeptical about the above, read how our guests experienced our tours on different paths: Holidays in Slovenia: Off the beaten track on a bike! 🙂
Physical preparation for MTB
Same thoughts, as for MTB paths, cross peoples' minds when it comes to physical preparations for riding a MTB. Once again it depends. If you are leaning towards the extreme version of MTB – hard trails, then yes you will have to be in a little bit better physical shape. However, if you are more for a recreational MTB tour you do not have to worry about being in amazing physical shape.
Facts:
Recreational MTB tours adjust the speed according to the whole group, so no one is left behind.
Breaks are taken along the way to make the trip easier and observe beautiful views along the way
More often you will ride a MTB easier it will get
E-bike
With the invention of an e-bike, the MTB has now approached a much wider population, offering only the best of mountain biking!
Facts:
The e-bike motor is only your assistant.
You still have to do most of the work by yourself, as the bike won't paddle on its own. 🙂
You will increase your range and the tour distance.
The slope is not a problem anymore, as everyone can help themselves by choosing different speed levels to overcome the ascent.
You will be nicely tired after the tour, but not exhausted.
You have more time to observe the surroundings and more fully experience the day on the bike.
Did you like our article?