Wine Cycling Tour in Slovenia
Wine cycling tour Slovenia takes place in Kras (or Karst) region. Karst is a mysterious small world in itself, caught in the gusts of bora in the winter, blanketed in freshness and flower scents in the spring, caressed by sunlight in the summer, and gleaming in warm colours in the fall. An exceptional interlacement of the subterranean and aboveground Karst created an idyllic environment for maturing the Karst prosciutto and cultivating vineyards that give shelter to the famous Teran. Behind the stone walls, the mystical world hides friendly, warm and hospitable people who cohabit with the landscape in their unique way, taking care of the culinary variety. The rugged countryside is a maze of secluded paths that snake between the stone walls and vineyards, and it's a pleasant and exciting part of the world for cyclists as well.
English and German speaking guide.
Explore beautiful nature and local food.
Trip duration:  6 h total
Season: April – October
Is this bike trip right for me?
Distance: 33 km
Elevation: 600 m
Highest point: 380 m
Highlights:
In addition to relaxing cycling and enjoying unspoiled nature, there are other special moments you can look forward to:
 A walk through Štanjel and a visit of the Ferrari garden  Visiting a boutique prosciutto shop  Cycling among the vineyards  A lunch and Teran tasting at a real homestead
Itinerary of the bike tour:
10.00 am – Pick up: The tour starts at your accommodation, from where we will take you to Štanjel, a lovely little village in Kras that will serve as our starting point of the cycling part of the journey.
11.00 am – Route start: We will start the cycling exploration of the landscape on the edges of Kras, taking the pleasant paths by the marvelous stone walls. Neat villages with their typical stone houses give a special atmosphere to the rocky wine-growing region, that is why we will spend the second half of the trip discovering them. Not only is the region full of hidden natural and architectural gems, but it is also culinarily rich. Before we wrap up the tour, we will try the local prosciutto and Teran that are the epitomes of Kras cuisine.
4.30 pm – Route finish: We will finish the tour back in Štanjel, which is one of the oldest villages in Kras and boasts with an astonishing town center and a fantastic view over the entire Kras region.
7.00 pm – Drop off: The all-day trip will be concluded with a drive back to your accommodation.
Time passes slowly in the Karst Region. Therefore, regional dishes are cooked slowly. The recipes pass down from one generation to the next and the housewives never cease improving on them. You should not leave Karst without tasting the delicious local food.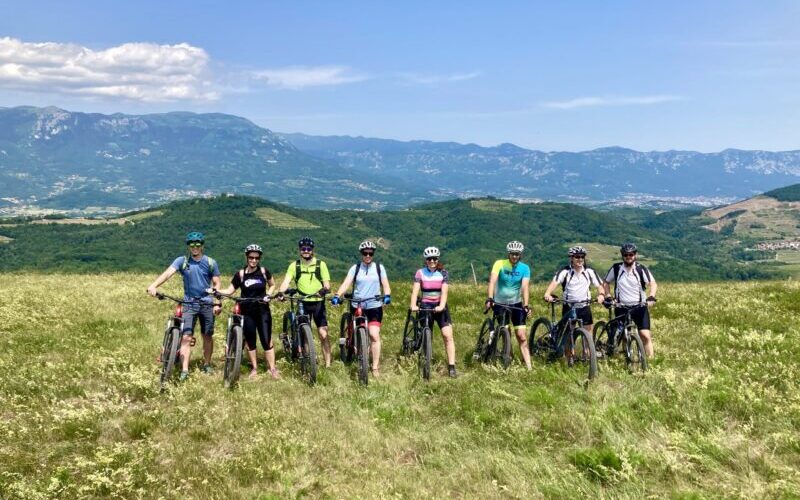 Included:
Professional guide.
Bike equipment – Electric mountain bike and bike helmet.
Exciting 6 hours long bike tour (time from pick up to drop off).
A ride from pick up location to the starting point of the trip, and a ride back after the tour is concluded.
Full support from our team. In case any technical issues occur, we'll make sure everything is fixed.
Photo memories.
Not included:
Upgrade to full suspension mountain bike.
Private guide.
Optional:
Ralph, Netherlands
"We had a mountain bike tour through the area Kras. It's in South West of Slovenia and it's really beautiful there. It was really awesome, we started in a small town that looked beautiful, there we got our bikes and we started. The guides are really nice and friendly. The mountain bike tour was really beautiful, we drove true the forest and we also past some nice towns with a lot of vineyard. The last part of the tour was on a road with some nice views and ups and downs.
It was a really nice tour and we had a lot of fun."
Nika M, Slovenia
"Awesome people + sports + exploring Slovenia + beautiful nature = the best way to spend your day!"
Ursa, Slovenia
"Mountain ebike tour we took with 4 coworkers was simply perfect. Organization, knowledge, food, flow of the tour, quality of bikes, route planned, culinary surprises. Everything was beyond our expectations and even though we are Slovenian we discovered so many amazing places we saw for the first time!"
Frequently asked questions:
How many people will be in the group?
AdminGH
2018-04-16T20:01:01+00:00
Since we believe smaller groups mean better experiences, we usually travel in groups of five to ten people. The minimal number of people for an individual group tour is four.
We are also offering private tours. For more info please contact us info@greenhills.si.
Guest requirements:
Guests ages 18 and up can attend. Parents may also bring children. If you bring a guest that's under 18, it's your responsibility to make sure the activities they participate in are age-appropriate.
Flexible cancellation policy:
In case the guest cancels the tour order within 24 hours of purchase, full refund is issued. See cancellation policy.