Mountain pastures below Košuta
One of the most beautiful and scenic cycling routes in the Gorenjska region runs through the shady forests and open grassy terrain at the foot of the south slope of Košuta, Slovenia's longest mountain.
English and German speaking guide.
Off the beaten path.
Trip duration:  6 h total
Season: June – September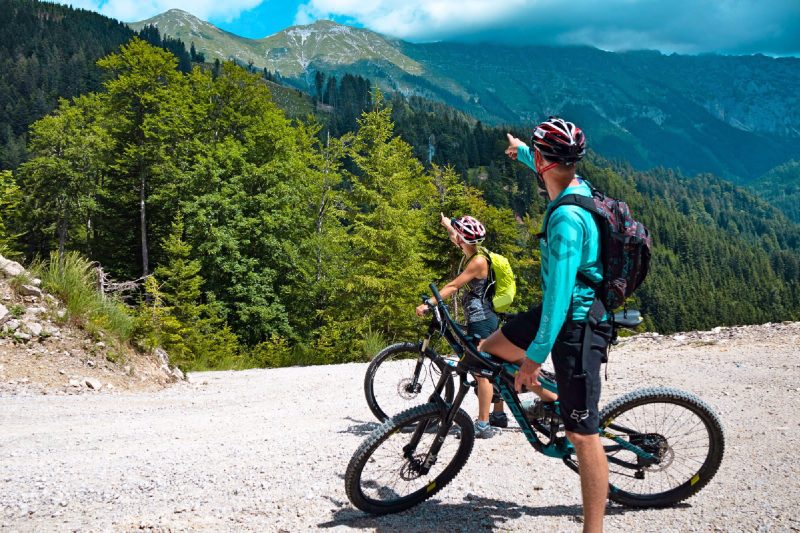 Mountain pastures below Košuta
Is this trip right for me?
Distance: 40 km
Elevation: 1250 m
Highest point: 1555 m
Highlights: 
In addition to relaxing cycling and enjoying unspoiled nature, there are other special moments you can look forward to:
A walk through the town center of Tržič. Visit of the Dovžan gorge. Enjoying endless views of the Karawanks. Visiting Šija scouts hut.
Explore: Map of our route
9.00 am – Pick up location: The tour starts at your accommodation. From where we will take a ride to Tržič, which will be our starting point of the cycling part of the tour.
10.00 am – Route start: The first part will consist of an medium uphill ride through lovely Dovžan gorge all the way up the river Tržiška Bistrica. At the end of the valley we start to climb uphill to the mountain pastures of Košuta. We will pass mountain pasture Pungrat and Šija where we will take a longer rest, to refill our lungs with all the clear mountain air and rest our eyes on the beautiful panorama view.
Šija will be the highest point of our tour, and scouts hut is a perfect place to try some local cuisine.
After we will follow the path to pasture Kofce, where we get ready for downhill ride back to the valley and town of Tržič.
4.30 pm – Route finish: We will conclude our trip in the town of Tržič. Before we take you back to your accommodation, we will have an afternoon coffee and an ice cream on the main square of Tržič.
6.00 pm – Drop off: A trip back to your accommodation.
 The Dovžan gorge is a journey through time. Although it is older than the dinosaurs, no dinosaur ever trod here. They did, however, swim: 300 million years ago this place was the site of a tropical sea, teeming with marine animals. Today in the walls of the gorge we can see their fossilized remains in abundance, including some that are found nowhere else in the world.
Included:
Professional guide.
Bike equipment – Electric mountain bike and bike helmet.
Exciting 6 hours long bike tour (time from pick up to drop off).
A ride from pick up location to the starting point of the trip, and a ride back after the tour is concluded.
Full support from our team. In case any technical issues occur, we'll make sure everything is fixed.
Photo memories.
Not included:
Upgrade to full suspension mountain bike.
Private guide.
Optional: 
Lunch at the Šija scouts hut
Visit of Tržič museum.
Mountain pastures below Košuta
We had a great trip to planina Šija, with a fantastic team-very nice guides. An exciting e-bike tour with breathtaking views from 1500m heights, down to the valley. I would recommend this kind of tours, not just only for the families, but also for teambuildings or a nice birthday present. What a crazy and fun ride. I loved it.
Awesome ride around mountain area of Tržič! Jernej was great mentor, super nice and friendly . Cant't wait to do it again.
We had a bike tour on Šija with co-workers and we had a great time! Awsome experience for us. Beautiful views through the whole trip. Jernej and Jerca were very nice and friendly. I recommend it to everyone looking for a fun activity in nature. Thank you for such a wonderful day, team Greenhills!
Frequently asked questions:
How many people will be in the group?
AdminGH
2018-04-16T20:01:01+00:00
Since we believe smaller groups mean better experiences, we usually travel in groups of five to ten people. The minimal number of people for an individual group tour is four.
We are also offering private tours. For more info please contact us info@greenhills.si.
Guest requirements:
Guests ages 18 and up can attend. Parents may also bring children. If you bring a guest that's under 18, it's your responsibility to make sure the activities they participate in are age-appropriate.
Flexible cancellation policy:
In case the guest cancels the tour order within 24 hours of purchase, full refund is issued. See cancellation policy.