If you are looking for a peaceful, yet active holidays in Slovenia off the beaten track on a bike, then you are at the right place. Slovenia, a stunningly beautiful country of only 2 million people, offers exactly that and much more. If you truly wish to actively experience the hidden unspoiled areas of Slovenia, then you should consider giving the local tour guides a chance to show you just that on an e-MTB.
However, we know sometimes it's hard to decide, which tour operator to choose. Therefore, we as Greenhills Slovenia team, present ourselves as a passionate group of young adults, who love the outdoor pursuits and the planet we live on. We strive towards a greener future of tourism and the preservation of old Slovenian traditions. Our wish is to take you off the beaten track on a bike in order to fully experience Slovenia like a local.
Below we share with you of our top tours off the beaten track through the eyes of our pervious guests, who already had the chance to experience it themselves.
Medieval Škofja Loka and old military road
Medieval Škofja Loka is surrounded with beautiful hills, that offer a view of the whole Poljanska Valley. The town is also a starting point of many trips to wonderful hidden spots, old customs, kind-hearted people, and culinary adventures.
Our lovely guests Jane and Jim described their experience of Škofja Loka tour as following:
"We had a great time with Jernej biking in Slovenia. He was prompt in biking us up at our hotel and then took us on a wonderful electric bike ride up a military road. The bikes were excellent quality. To top that off we stopped at a tourist farm and had some homemade soup and bread (lunch for 3 was only 8 Euro!). Then we had a tour of a cheese farm and a blacksmith shop, including throwing axes. A great trip and good quality for our money. We would recommend this for anyone wanting to get out of the city and experience the Slovenian countryside".
Hidden sheperd's paths of Pokljuka
Pokljuka, a plateau covered with forest, is located in the middle of Triglav National Park. Despite the prevalence of forest, breathtaking views of the Julian Alps on one side and of Lake Bled and Lake Bohinj on the other, are waiting for you. Pokljuka truly is heaven for all the tourists who wish to try a cup of milk, a slice of the authentic Bohinj cheese and listen to the stories of shepherds.
Our wonderful guests Warwick F. and his wife described their experience of Pokljuka tour as following:
"We had an excellent time. Our guide was so flexible – catering to our needs and cycle capabilities perfectly. We enjoyed seeing Slovenia through the eyes of a local. We wouldn't have been able to explore the Julian Alps by ourselves. The biggest highlight was sharing cheese, sour milk and bread with a shepherd. The e bikes were terrific. We highly recommend this company and we will use them again when our travels take us this way."
The alps, glacial lakes and the medieval beauty
If the bike tours above, off the beaten track, sound like a perfect match for you but you just can't decide for one of them, why not try a multiple day bike tour off the beaten track. This way you will truly experience Slovenia from inside out. Since we had a guest who enjoyed such tour with all his heart, we decided to share his experience with you. This experience, off the beaten track on a bike, is slightly longer, but our guest Milan truly took his time writing it for you.
"Well, I'm from Croatia, which is a really beautiful and well-known tourist destination itself, and happen to live almost right across the Slovenian border, and after this tour, which was my first in Slovenia, I keep asking myself what the hell took me so long!?

There are really two sides to why this was such a fantastic tour; one is the country it runs through, and the other is the company running it, especially my guide, Jernej.

Slovenia is just stunningly beautiful. Just look at the pictures accompanying this review, and that's only a tiny sample of how beautiful it is. It is a small country, but what it lacks in area it more than makes up in beauty and sheer density of amazing views, places and trails. Basically, if someone blindfolded you, spun you, sat you on your bike and told you to ride, you would have made a great trail choice! The country is just jam-packed with beautiful places, and although I visited mainly because of the Alps, it turns out I'm not just talking nature. Ljubljana is a beautiful city combining modern and old, and Škofja Loka is a really lovely medieval town, both harmoniously settled within an amazing blue and green alpine backdrop. So gorgeous is that blue and green scenery that while pedalling through it a smile just would not come off my face, no matter how steep it was, how long it's been since we'd started, and not even in fog and rain (which thankfully only accompanied us once in the entire four-day trip)!

Now a big part of why that smile was on my face was Jernej. First of all, you should know I had almost no idea what exactly my accommodation will be, so when he told me the usual place was sold out, I was a bit sceptical. Turns out Jernej is a really thorough guy who makes it a point to provide riders on his tours with a complete biking experience, stretching beyond just sitting them on a bike, taking them for a spin and then abandoning them. This includes having a cosy place to stay, so he made an effort to find me a really great accommodation (called Gostilna Lipan, by the way), above a creek, beneath a green woody hillside, in a nice huge new room smelling of fresh wood, with a big fat breakfast waiting on me each morning, my bike stored safely in a garage, and an option to have my clothes washed and dried should the need occur. So no need to frown upon accommodation, to say the least. And about that bike in the garage, I brought my own, which is not an e-bike, so that's no problem.
On the tours, Jernej turned out not just to know a huge number of local trails, but also to be ready to share them with his riders by being very flexible and mindful of peoples' level of skill and experience. So, beyond the offered tour, he would always describe me at least a couple alternatives of where we could ride and recommend what he thinks would suit me best. Well, he never missed – I attach some photos of trails we took that are not on the regular path, but that I'm super happy we've ridden.
By now you may have noticed I was mostly alone on the tour, so in case you were wondering how things are when there are more riders, one day there was another one, and the ride went effortlessly although we'd just met that day. The fact that we were different-style riders, that he was on an e-bike and I on a regular bike, and that after doing 42 km and having a small crash we were both super happy speaks for itself. After that rather benign crash on a tight super slippery corner, Jernej was extremely professional and careful and patiently examined my co-rider and his bike to cover all the bases, offered to have the van pick him up if necessary (although the fall was really not serious), and only then have we continued, at a slower pace, to make doubly sure everything was OK. So that was quickly forgotten and also reassured me that I can rely on my guide if I needed to.
As I said, Jernej makes it a point to keep the experience going even after the rides. He would regularly offer some activity afterwards, and not in that "Do you wanna do this?" kind of way that makes you pause and think whether you're being a burden. He'd usually say something along the lines of "I was planning for us to go there and there later if you're OK with that, so what do you say I pick you up between then and then?" So the onus is on you to decline, rather than to ask to go, which is a nice touch and keeps things friendly and relaxed. For instance, one day he arranged a nice barbecue for my above-mentioned co-rider, himself and me immediately at the end of the ride (you'll probably recognize which photo was taken on that occasion 😉 ), another day I rested and then he picked me up for a walk around Škofja Loka and a ride on a local pump track, or we'd go for dinner and so on. It is hard to find an approach to organizing bike tours that is both so thorough and so relaxed at the same time. Simply exceeded all my expectations.

I could go on and on but this review is so long already I'm not sure anyone is reading anymore anyway. Slovenia and Greenhills are simply brilliant, stop wasting time thinking, just book this tour and go ride your bike!"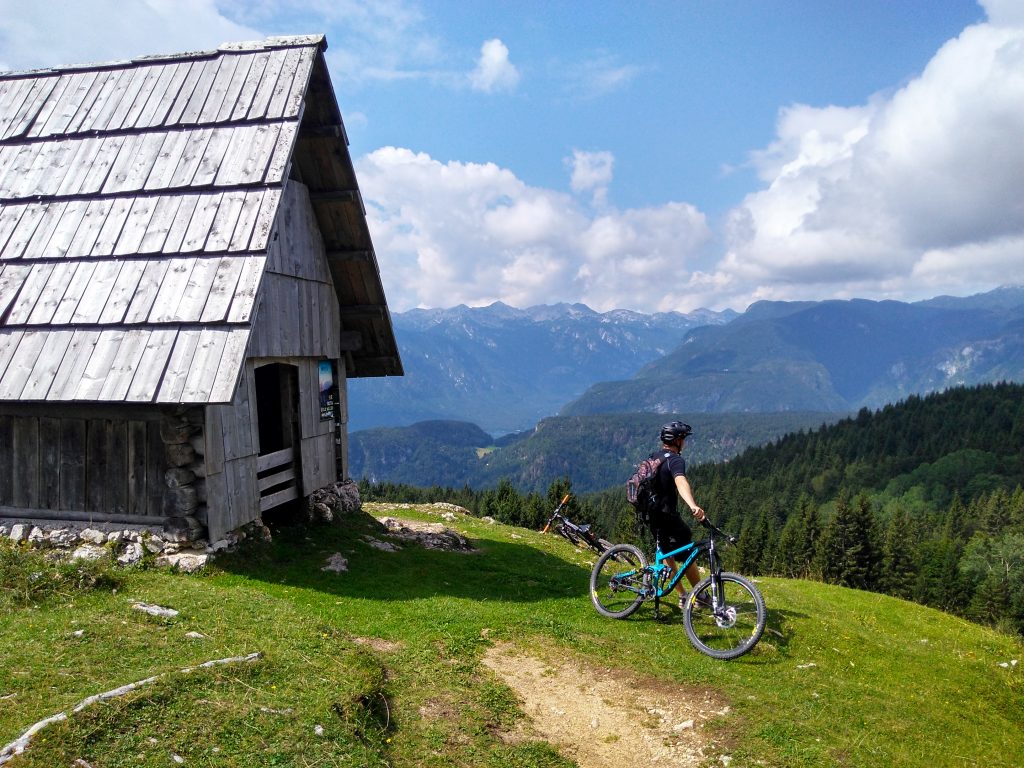 Sources:
Tripadvisor testimonials
Headline photo © Peter Koren
Did you like our article?
SHARE IT