Trans Slovenia ebike Tour
Scenic trails, traditional villages and delicious wines.
Trans Slovenia ebike tour shows remarkable diversity seen through the eyes of a 7-day cycling trip. The bicycle story with a fusion of natural and cultural features is wrapped up with culinary experiences that give each province its appeal.
The tours offer a unique and scenic way to explore the country's diverse landscape. From the rolling hills of the Julian Alps to the flat plains of the Prekmurje region, there is a route to suit every cyclist. The well-maintained bike paths, quiet roads, and picturesque villages make the country a popular destination for cycling enthusiasts. Slovenia has something to offer, whether you are looking for a leisurely ride or a challenging climb.
Popular cycling routes include the Wine Route in the Brda region, the military roads in the Škofja Loka region, and the challenging mountain passes and alpine pastures in the Julian Alps. With its beautiful scenery, delicious local cuisine, and friendly locals, a Trans Slovenia ebike tour will be an unforgettable experience.
Max. group size: 12 people

Professional English and German-speaking local bike guides.

We use Electric Mountain bikes (eMTB)

Accommodations:

Local tourist farms and family-owned hotels (*** and **** stars).

Best season: May to end of October
Is the tour right for me?
Tarmac road (60%) Gravel road (40%)
Visiting shepherd cottages on mountain pastures with a view of the Julijan Alps.

Visiting Bled and Lake Bled.

The medieval town of Škofja Loka (the second oldest town in Slovenia) with its exciting history.

Strolling through Ljubljana, exploring the nicest corners of the town, seeing them through the eyes of the locals.

Cycling through the vineyards.

Tasting the best Slovenian wines.

Culinary experiences in different Slovenian provinces.
Best trip ever
We could not have found ourselves in better hands than those of Jernej and Nejc. They were very flexible in the planning – from offering single-track rides for our more experienced riders to stopping at swimming holes for a dip and planning shaded rides for our hottest days to surprise picnics. They were always cheerful and we were able to learn much about Slovenian life through our many conversations.
Barbara, Fort Collins – Colorado
The Trans Slovenia ebike tour is the perfect adventure to escape the daily routine.
Jessica, Israel
"It was a perfect week! The guides thought of everything down to the last detail, and made the experience the best possible! I personally received help and support for any question or challenge while cycling and all with a smile and great love! Highly recommend for an unique experience
Thank you so much!"
Klil & Sivan, Israel
"Jernej and Ursa Green Hills are professionals! Everything was done on time with great love and care, the bikes were perfect and taken care of daily, and the tracks were great. We were with 2 groups for two weeks in a row and it was un believable. We highly recommend going with them, on bikes or walking track. They are the best !!!"
Chris, USA
"Our group of 10 adults, all over the age of 62, was expertly guided by Jernej and his Greenhills team for 8 days of exploring the stunning beauty of Slovenia by E-bike (Trans Slovenia ebike tour). Every one of our needs or concerns was immediately addressed so that we each had a great time. Sometimes we split up into different groups to better fit what we wished to do each day and Greenhills was most accommodating and flexible. The bikes were in excellent condition and recharged nightly.
Having led several bike groups on trips with other guide services in other countries, I can attest that Jernej and Urša and Nejc and Uroš have proven to be the BEST I have experienced. Hvala Lepa!!!"
Trans Slovenia ebike tour highlights in photos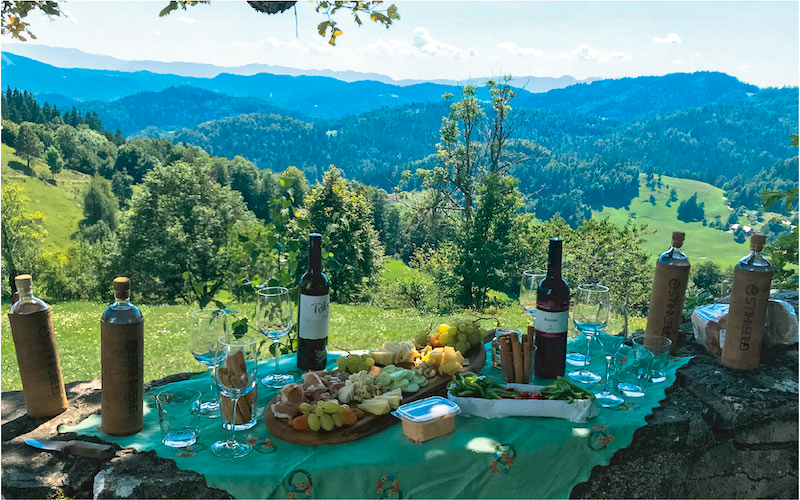 How many people will be in the group?
AdminGH
2018-04-16T20:01:01+00:00
Since we believe smaller groups mean better experiences, we usually travel in groups of five to ten people. The minimal number of people for an individual group tour is four.
We are also offering private tours. For more info please contact us info@greenhills.si.
Guest requirements:
Guests ages 18 and up can attend. Parents may also bring children. If you bring a guest that's under 18, it's your responsibility to make sure the activities they participate in are age-appropriate.
Flexible cancellation policy:
In case the guest cancels the tour order within 24 hours of purchase, full refund is issued. See cancellation policy.