5 reasons to embrace ebike holidays in Slovenia
Slovenia, nestled in the heart of Europe, is a hidden jewel awaiting discovery by those with a taste for adventure. And what better way to discover its gems than by going on an ebike holiday in Slovenia? This amazing country invites visitors to experience a journey unlike any other by providing an amazing blend of nature, culture, and adventure.
From the seat of an electric bike (e-bike), you may explore Slovenia's captivating landscapes and lose yourself to the diverse natural treasures that it has to offer. Feel the warmth of its people and relish the excitement of exploration. These battery-operated marvels provide a unique blend of human and machine, making it easy to see Slovenia's natural beauty. You can go across rolling hills, historic villages, and lush valleys with ease.
Riding an ebike is an experience that goes beyond the norm, giving you a really genuine chance to engage with Slovenia's spirit. A tour that promises memories that last long after the ride is finished. Appealing to people seeking adventure, culture, and scenic beauty. Slovenia's ebike holidays are therefore a great opportunity to start an incredible journey in the centre of Europe, regardless of your level of cycling experience.
Below are our 5 reasons to embrace ebike holidays in Slovenia with us. Let's go…
1. Discovered scenic glory on an ebike holidays in Slovenia
From the seat of an ebike, Slovenia's landscapes are a patchwork of breathtaking sights that come together to produce an incredible panorama. Pedal through serene lakeshores, wind through charming villages, and over rolling hills as you effortlessly take in Slovenia's breathtaking natural splendour.
2. Cycling Adventures for cultural enthusiasts
Discover Slovenian culture through a distinct perspective using e-bikes, which offer immersive experiences unmatched by anything else. Cycling through ancient old towns, interacting with the local community, and savouring the rich flavours of regional cuisine. E-biking in Slovenia offers a slower pace that allows you to completely enjoy the essence of each destination.
The outcome? Treasured memories are created by sincere conversations and a cultural adventure that lasts long after the wheels stop moving.
3. Seamless exploration with e-bikes
Savour the delight of carefree discovery as e-bikes brilliantly combine technology and exploration, transforming difficult climbs into thrilling excursions. The electric boost enables you to travel further and explore more unexplored areas, regardless of your level of experience riding a bike. They make sure your journey is filled with excitement and discovery by revealing landscapes that may otherwise stay hidden.
4. Eco-Conscious Adventure
Ebike holidays in Slovenia are an eco-friendly vacation. E-bikes present a novel and ecologically friendly way to reduce our dependency on fossil fuels at a time when sustainability is the main focus. In addition to being a more environmentally friendly form of transportation than cars and motorcycles, e-bikes are also incredibly efficient, with a 500–600 Wh battery that can power rides up to 100 km. However, the length of the trip is determined by the battery capacity, elevation gain, user weight and the support settings used.
5. Inclusive and memorable e-bike holidays in Slovenia
E-bikes provide an inclusive experience open to people of all ages and fitness levels. Because of their adaptability, e-bikes are the best option for groups of friends, solitary travellers, and families. Everyone may experience ebike holidays in Slovenia, regardless of their background or physical ability. The thrilling rush of adventure, as you travel through gorgeous routes, creates an experience and forms friendships that will last a lifetime.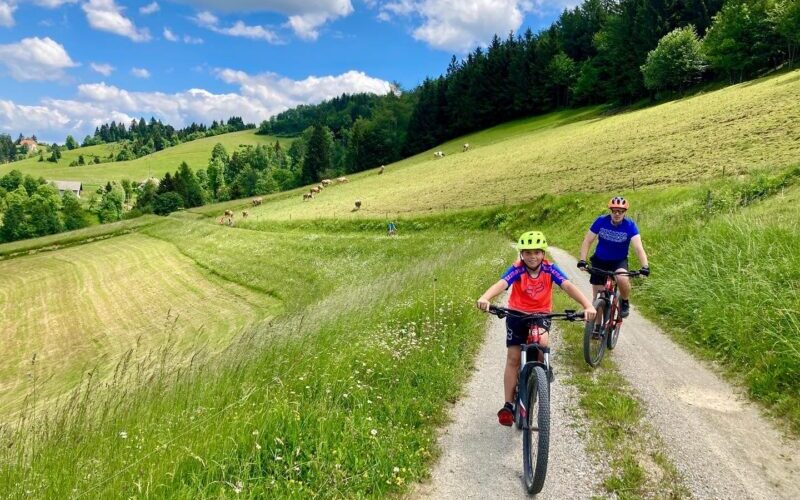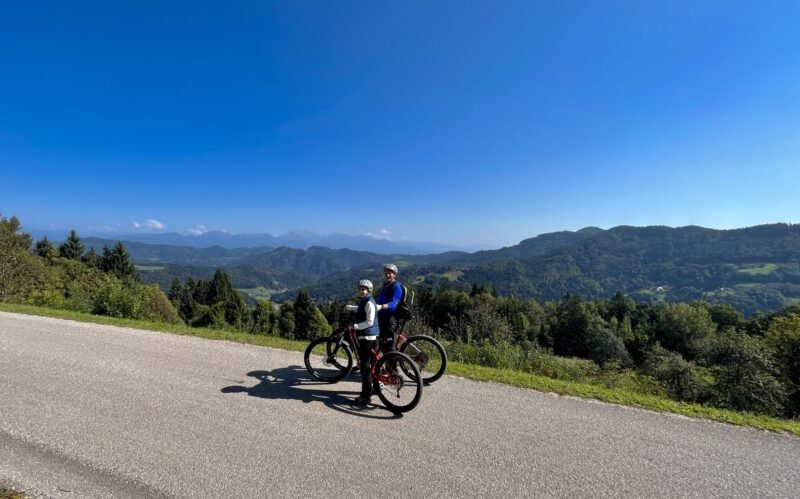 Ebike holidays in Slovenia: an unforgettable experience.
In conclusion, ebike holidays in Slovenia embody the spirit of exploration, adventure, and environmental conservation. Our holidays packages offer 3 unforgettable experiences. The Trans Slovenia e-bike Tour offers an adventure between the vineyards and wine degustations, while The Slovenian Alps e-bike Tour covers primarily the mountain areas of Slovenia. But if you prefer to do self-guided tours, we highly recommend our Ljubljana to Bled bike Tour. These trips promise to be an incredible experience that will create lifelong memories as it winds through the centre of Europe's undiscovered beauty.
Do you want to experience ebike holidays in Slovenia, but want more information?